Home
Purpose
The Anderson Obedience Training Club organizes classes for the purpose of "Teaching You to Train Your Dog and Gain Control of Your Dog". Our club and classes are open to all owners and their dogs regardless of breed or pedigree. All dogs are welcome.The Anderson Obedience Training Club in Anderson, Indiana is a member of the AKC (American Kennel Club).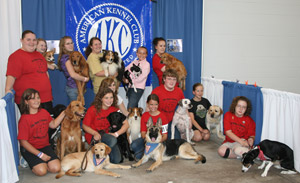 Anderson Obedience Training Club, Inc., with the help of the American Kennel Club set up an informational booth at the Indiana State Fair 4-H Dog Obedience Competition at the Indiana State Fairgrounds. Pictured are members of the Madison County K-9 4-H group who competed in Obedience, Agility, and Conformation during the weekend.
Please Donate
AOTC would like to encourage members to please donate to the Madison County Humane Society (2229 Crystal St. in North Anderson - Phone - 765-644-6484 - 10-12noon & 3-5p.m. Closed on Wednesday). They are always in need of items to care for the many abandoned dogs and cats. Some needed items are food, cleaning supplies, beds, crates and as always cash. All donations are appreciated. Unfortunately, in this difficult economy, more pets are being taken to shelters or abandoned than ever before, so if there is room in your home and heart for another animal, please consider adopting.
News & Forms
Note: Most or all of the following documents are in a .pdf format*.
AKC Special Messages
AKC Obedience Regulations
AKC All Rules Link

Visit us on Facebook

Visit and join our group on Yahoo
*(Many of the documents in this website are in .pdf format. NOTE: If you click on one and it does not show up on your screeen, this may mean that you do not have the "Adobe Reader" installed on your computer, so the files can be read and seen by your computer. In order to view and print the newsletter, you must have Adobe Reader installed on your computer. Adobe Reader is a free and safe download.
Click here to download Adobe Reader.)